Nutrishop Boca – #1 Supplement Store In Boca Raton
When you visit Nutrishop Boca Raton you can rest assured that you'll find the widest variety of high quality supplements, vitamins, weight loss products and more at outstanding prices!
At Nutrishop Boca Raton our goal is make sure that we have every supplement you'll need at your disposal in order to reach all of your fitness goals.
Our staff is extremely knowledgeable and friendly. They'll take the time to give you the one on one attention and education necessary to make the best Nutrishop product decisions to achieve your fitness goals. Come visit one of our Nutrishop locations today.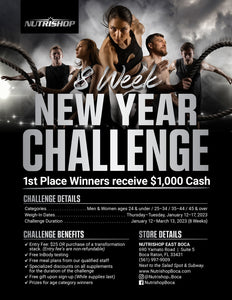 21-Day Kickstart Challenge!
This is a personal 21-day challenge to help you kick start to better healthier habits!
This is YOU vs. YOU! We want to provide you with the education and services we have learned over 10 years of helping clients achieve results!
We want to create a plan and a structure that fits your life. Let's face it, we all struggle differently, which is why you need a meal structure and supplements to cater to your everyday life, weaknesses, preferences, and even deficiencies! We are your source for ACCOUNTABILITY!
Our goal is not only to create habits, but a sustainable lifestyle you can do FOR GOOD!
On top of this, We offer special stack discounts to make sure you have everything you need to create sustainable, healthy lifestyle changes!
Inbody and Meal Plan Included FREE!
Why wait? Let's make the life you always wanted HAPPEN!
Subscribe to our newsletter
Promotions, new products and sales. Directly to your inbox.
Let customers speak for us
Amazing products
It tastes really good and gives me good energy to workout
Phenadren
It's not the same as the blue and white capsules.Something is different about it.The all white capsule is so plain with no markings to identify it.Feels like a cheap knock off.I will never order again.
Great Protein!!
Disolves evenly , tastes good and very digestable, very happy.
Outstanding taste and energy. 10 plus
Great product
I'm a long distance cyclist and do a little amount of resistance training. Before training/rides, during and after has kept me solid and strong. Tasty, too. Win-win.
Great Product and Tastes Amazing!!
Been Using Nutrishop Product's for Almost 20yrs. Everything My wife and I have tried as been Great!!!
Excellent Product's and Always Top Notch Customer Service from the Nutrishop Gang!!!! Thank You!!!
Good Product
Had been battling severe bloat, constipation, gas and fatigue after two months on antibiotics. Medical help resources weren't helping. I purchased Gut Formula and experienced immediate noticeable improvement. Thrilled with the immediate relief.
Super tasty!
Definitely my favorite protein powder.
Works great
I have been uses this product for a long time
Recovery
Really helps with recovery and must have for power lifting and soreness
Best pre workout
Tastes amazing and gets the job done
Love it! Totally curbs my appetite and with no jitter or blah feelings
I just started this on Saturday and I'm so glad I did. I was tired of wasting money on stuff that didn't work, or made me feel blah. I wanted something to help me because the sugar and snack cravings I had in the evening were so bad. I took this around 7 pm and I literally didn't want to eat anything. Totally curbed my snack cravings. I'm on day 3 and not even wanting to snack at work. I'm totally satisfied with my light lunch and water. I'm loving this stuff!
Great Product
Helps give you the edge your looking for