Nutrishop Boca – #1 Supplement Store In Boca Raton
When you visit Nutrishop Boca Raton you can rest assured that you'll find the widest variety of high quality supplements, vitamins, weight loss products and more at outstanding prices!
At Nutrishop Boca Raton our goal is make sure that we have every supplement you'll need at your disposal in order to reach all of your fitness goals.
Our staff is extremely knowledgeable and friendly. They'll take the time to give you the one on one attention and education necessary to make the best Nutrishop product decisions to achieve your fitness goals. Come visit one of our Nutrishop locations today.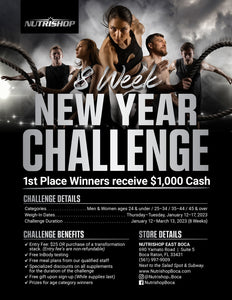 21-Day Kickstart Challenge!
This is a personal 21-day challenge to help you kick start to better healthier habits!
This is YOU vs. YOU! We want to provide you with the education and services we have learned over 10 years of helping clients achieve results!
We want to create a plan and a structure that fits your life. Let's face it, we all struggle differently, which is why you need a meal structure and supplements to cater to your everyday life, weaknesses, preferences, and even deficiencies! We are your source for ACCOUNTABILITY!
Our goal is not only to create habits, but a sustainable lifestyle you can do FOR GOOD!
On top of this, We offer special stack discounts to make sure you have everything you need to create sustainable, healthy lifestyle changes!
Inbody and Meal Plan Included FREE!
Why wait? Let's make the life you always wanted HAPPEN!
Subscribe to our newsletter
Promotions, new products and sales. Directly to your inbox.
Let customers speak for us