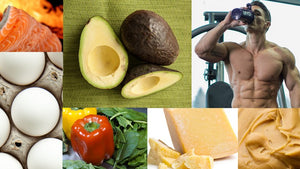 Ketogenic Diet Supplements
The ketogenic diet has been touted for its weight loss benefits, but without the right nutrition fatigue can set in compromising performance. Learn what ketogenic diet supplements may benefit your exercise routine. 
What is the Ketogenic Diet
The ketogenic diet  (keto diet) is a diet where the majority of calories are from healthy fats. It also includes some proteins and very low carbs. Starches, grains, and legumes are avoided. Vegetables consist mostly of leafy greens.
A high intake of fatty foods increases ketone levels putting the body in a state of ketosis. The body will use ketones instead of glucose for energy. 
How the Keto Diet Affects Exercise
People on ketogenic diets can have decreased energy levels due the lack of carbohydrates and protein in their diets. This is because high-intensity and muscle building exercises rely on glucose and amino acids [R, R].
Fatigue from keto diet may also prevent someone from wanting to exercise [R]. 
A ketogenic diet may impair exercise performance at intensities higher than 60 percent. Long term keto diets may also cause reductions in body mass or skeletal muscle may also occur due to impaired anaerobic power and strength [R]. 
Ketogenic Diet Supplements That May Be Needed
A low carb diet may not provide enough vitamins, fiber, and protein needed for exercise [R, R, R]. Ketogenic diet supplements may improve nutrient intake and combat nausea, back pain, headache, weakness, muscle cramps, constipation, and diarrhea associated with the keto flu [R]. 
MCT Oil
MCT oil is an oil rich in medium chain triglycerides (MCT). It induces ketosis when there is not enough fat in the diet [R, R]. Coconut oil contains 17% of MCT's and can also promote ketosis [R]. 
Omega-3 Fatty Acids 
Supplementing omega-3 fatty acids like fish oil and krill oil in conjunction with the keto diet improved triglycerides, glucose levels, and reduced inflammatory markers [R ,R]. 
Exogenous Ketones
Exogenous ketones are available in the form of ketone salts or ketone esters [R, R]. 
Ketone esters had a 2% increase in exercise performance and recovery when used in conjunction with carbohydrate intake. Some have been found to affect blood pressure and electrolyte function. True effects on exogenous ketones on exercise are still unknown [R, R, R].  
Greens Powder Supplements
Greens powder supplements offer an easy way to get a larger serving of vegetables with just a scoop of powder. Add it to your workout drinks and smoothies to get a dose of antioxidants, phytochemicals, vitamins, and minerals in one serving 
Electrolyte Supplements 
Losses in calcium, sodium, potassium, calcium, and magnesium can occur with the keto diet. These nutrients are needed to maintain muscle contractions, heartbeat, blood pressure, and kidney function [R]. 
A calcium and magnesium deficiency is particularly dangerous for athletes. It can result in fatigue and muscle cramps [R, R].  
Electrolyte supplements can put back these lost nutrients.
Creatine and Branched-Chain Amino Acid Supplements 
Creatine may improve energy, strength, and muscle [R, R].  Branched-chain amino acids were shown to prevent muscle breakdown and brain fatigue during exercise [R, R, R, R, R, R, R].
Fiber Supplements 
Psyllium husk fiber supplements may help those who cannot get enough fiber from foods [R]. It may also lessen constipation associated with the keto diet [R]. 
Risks and Contraindications of Ketogenic Diet Supplements
There are some risks and contraindications involved with taking ketogenic diet supplements.
MCT Oil Risks and Contraindications
Side effects of MCT oil include diarrhea, vomiting, irritability, nausea, stomach discomfort, intestinal gas, essential fatty acid deficiency. Taking as low a dose as possible with food may reduce these effects. [R]. 
Omega-3 Fatty Acids Risks and Contraindications 
Those with blood clotting should avoid omega-3 fat supplements [R]. A vegan omega-3 is recommended for those with fish allergies.
Exogenous Ketones Risks and Contraindications
Ketone supplements should not be used by anyone with high blood pressure or kidney issues. Side effects include stomach upset, diarrhea, constipation, and stomach pain [R]. 
Electrolyte Supplements Risks and Contraindications
Supplements can shift the balance of electrolytes [R]. There are no specific drug interactions but if you're on medications it's best to talk to a healthcare provider before taking them.
Fiber Supplements Risks and Contraindications
Too much fiber may cause stomach upset, bloating, diarrhea, and or constipation [R, R].  
Greens Powder Risks and Contraindications 
Those on blood thinning medications may want to be careful about their intake of vitamin K found in super greens powder. It can interact with antibiotics, cholesterol medications, weight-loss drugs, and blood thinners [R]. Some side effects such as stomach upset and diarrhea have been seen from overuse.
Creatine and Branched-Chain Amino Acid Supplements Risks and Contraindications
Side effects associated with creatine include nausea, upset stomach, or diarrhea. They may also interact with kidney medications [R]. Creatine has been found to be safe for athletes [R].  
Branched-chain amino acids may cause fatigue and loss of coordination. Those on levodopa or antidiabetic medications may have interactions with BCAAs [R].  
Final Thoughts on Ketogenic Diet Supplements
The ketogenic diet restriction of food groups can leave out many important nutrients needed for exercise performance.The addition of keto supplements like fiber, greens powder, omega 3's, creatine, branched-chain amino acids, electrolytes, and MCT oil may combat keto fatigue. However, there may be potential side effects. Those with health conditions and on medications should talk to their healthcare provider before starting any ketogenic diet supplements.
Resources 
---