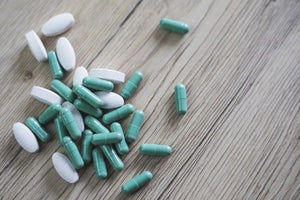 Probiotics and digestive enzymes: how they can improve nutrition
Probiotics and digestive enzymes are two popular dietary supplements While there are differences between the role of digestive enzymes and probiotics, both compounds have been praised for their improvement on digestive health. Learn what probiotics and digestive enzymes are, where to find them, and how they may improve nutrition.
What are Digestive Enzymes
Digestive enzymes are part of the digestive system. These substances are produced and secreted by the body. They are commonly found in the mouth, stomach, pancreas, and intestines [R]. 
How Do Digestive Enzymes Work?
During the digestive process, specific compounds help digest and absorb the nutrients in foods. These compounds known as enzymes break down fats, proteins, and carbohydrates in foods [R]. 
Different Types of Enzymes
Natural digestive enzymes are found in the gastrointestinal tract. Here is a list of digestive enzymes [R]: 
Amylase

Protease

Lipase

Other types of digestive enzymes 
Amylase
Amylase is an enzyme that breaks down carbohydrates. It converts carbs into simple sugars. Amylase is made by the saliva and pancreas. It is found in the mouth and small intestine [R].
Protease
Enzymes for digestion of protein are known as proteases. A protease is an enzyme that breaks down protein into different amino acids. These compounds are used for several body functions including renewal and repair of cells. Enzymes for proteins include [R,R]:
Pepsin

Trypsin

Chymotrypsin
Pepsin is found in stomach acid. Trypsin and chymotrypsin are made by the pancreas. During digestion these enzymes are secreted into the small intestine [R].
Lipase
Lipase is an enzyme that breaks down fats and oils. They are made and secreted by the pancreas. Lipase is found in the liver, fat cells, veins, arteries, and the small intestine [R].
Other types of Digestive Enzymes
Other types of enzymes include lactase, alpha-galactosidase, phytase, and cellulase. 
Lactase is an enzyme that breaks down lactose. This is a sugar found in dairy products. Lactase is found in the small intestine. [R]. 
Alpha-galactosidase is an enzyme that breaks down complex carbohydrates like beans and peas [R]. Phytase is an enzyme that breaks down grains and seed oil [R]. These enzymes are found in the small intestine [R, R]. 
Cellulase is an enzyme found only in vegetables. It breaks down a plant's cellulose or fiber into a beta-glucose. Beta-glucose is a type of carb found in plants [R, R]. The breakdown of cellulose in humans varies depending on the gut bacteria present [R]. 
These enzymes have also been made into dietary supplements. These are derived from both animal and plant sources and contain a combination of lipase, amylase, proteases, and/or other enzymes [R, R].  
Benefits of Digestive Enzymes
The benefits of digestive enzymes include better digestion, improved gut health, weight loss, reducing muscle soreness and treating health conditions.
Enzymes for Improved Digestion
Regularity, as well as a decrease in gas, bloating, and stomach pain have been seen with the use of digestive enzymes [R, R]. The use of two or more enzymes was also effective in combating fullness, nausea, heartburn, regurgitation, burping, and/or lack of appetite [R]. 
Digestive Enzymes for Leaky Gut
Digestive enzymes may also heal leaky gut. These compounds were able to increase the bacteria diversity in the gut [R. Mice given lipase had an increase in the level of Lactobacillus reuteri, an anti-inflammatory bacteria known for relieving intestinal inflammation [R]. 
Enzymes for Weight Loss
A healthy gut is also needed for weight loss [R]. 
So the more healthy bacteria present the more likely you are to lose weight [R. If these compounds can increase the presence of healthy gut bacteria there is the potential to use enzymes for weight loss.
Alternatively, digestive enzyme inhibitors have been successful for weight loss. These supplements will prevent enzymes from working and reduce the amount of nutrients absorbed [R]. 
The use of lipase, amylase, and trypsin blockers caused reductions in the absorption of fat, carbs, and protein. Reductions in both fat and weight loss were seen with the use of these supplements [R, R, R]. 
Enzymes for Muscle Soreness
Protease enzymes may also improve muscle soreness. Protease tablets reduce muscle soreness when used before and during exercise. 
Runners who took 8 protease tablets containing  325 mg pancreatic enzymes, 75 mg trypsin, 50 mg papain, 50 mg bromelain, 10 mg amylase, 10 mg lipase, 10 mg lysozyme, and 2 mg chymotrypsin had better muscle healing and contraction of their leg muscles than those who took a placebo over the course of 4 days [R]. 
Enzymes for Health Conditions
Digestive enzymes have been successful in treating malabsorption and digestive disorders including diabetes, lactose intolerance, and pancreas disorders like chronic pancreatitis [R]. 
When to Take Digestive Enzymes
Some individuals have malabsorption and digestive disorders that cause a lack of enzymes. As a result, their digestion may be compromised and digestive enzyme supplements may be recommended [R].  
If you find yourself with gas, bloating, stomach pain and fullness after eating you may also benefit from digestive enzyme supplementation  [R].
Supplements to help digestion may also provide some relief for muscle soreness as noted above.
What to Look for in a Digestive Enzyme
The potency of the enzyme depends on how it is made [R]. Animal and plant-based digestive enzymes are available. Enzymes derived from animals like pork and cows are typically used to make digestive enzymes. How well this type of enzyme works depends on the age, species, sex, and breeding of the animal [R].
Pork enzymes are similar to humans. They are about 30 to 50 percent more effective than beef sources. However, enzymes made from plants and microbes also produced positive results. Their popularity is growing. They also provide a solution for people who are vegetarian and vegan [R]. 
Digestive enzyme supplements are not regulated. So the amount and activity can vary by brand [R, R]. When choosing a digestive enzyme look for one that is third-party testing for quality
[R].
Digestive Enzymes Dosage Recommendations
There is no standard dosage for digestive enzymes. So it usually varies from brand to brand. It is best to start with a low dose and follow the manufacturer's instructions. Start with a short trial for just two or three weeks to see how they affect you [R]. 
Are Digestive Enzymes Safe
Since digestive enzymes are not regulated the doses can be all over the place. Some products have unclear and misleading labels [R]. This means you may not be getting what is advertised on the box.  
Some research has shown digestive enzymes may be proinflammatory. Cells treated with amylase and the proteases bromelain and papain caused the production cells seen with inflammation and viral infections [R,  
Lipase inhibitors can increase hunger, diarrhea and stomach pain [R R]. On the other hand, the use of the lipase causes hunger when eaten with a fat meal. This could lead to excess food intake and possible weight gain [R]. 
Overall, digestive enzymes seem to be generally safe when following the manufacturers directions. There have been side effects seen with the use of this supplement. They include stomach pain, nausea, and diarrhea. Allergic reactions, stomach blockages, gallstones, high uric acid, itching, hives, and rash are more rare side effects [R].
More research needs to be done to know the true negative effects of digestive enzymes. So those with health conditions and/or on medications should check with their healthcare professional before starting these supplements.
Foods with Digestive Enzymes
An alternative to taking digestive enzyme supplements is adding foods with high enzymes to the diet. Foods with digestive enzymes that occur in them naturally include the following: 
Lipase in foods consists of avocados, kefir, kimchi, and miso [R, R, R, R, R, R, R, R]. Amylase enzymes were found in mangoes, bananas, kimchi, and miso [R, R, R, R, R, R]. Proteases are found in papaya and ginger [R, R]. Raw honey contains both amylase and protease enzymes Honey [R, R, R, R, R]. Kefir, kimchi, and miso contain all three types of enzymes [R, R, R, R, R, R, R, R]. 
What are Probiotics
Probiotics consist of live strains of bacteria and yeast. These microorganisms are found in fermented foods, added to foods during processing, and are made into dietary supplements [R]. 
Common strains of bacteria include Lactobacillus and Bifidobacterium. Yeast found in probiotics are Saccharomyces boulardii [R]. 
Prebiotic v. Probiotic
Probiotics are not to be confused with prebiotics. Prebiotics are microbes while prebiotics are the by-product of fiber digestion. These substances produce substances that promote the growth of healthy bacteria [R]. 
Prebiotics are created when foods with fiber are digested.
What Do Probiotics Help With
The health benefits of probiotics include  improved digestion, cholesterol, immune function, metabolism and weight loss. 
Probiotics for Digestive Health
Probiotics support a healthy gut and digestive system. The gastrointestinal system is lined with bacteria, virus, fungi, protozoa and other microbes [R]. 
These organisms have positive effects on digestive health. They increase the production of healthy bacteria and cultivate a healthy microbiome. A healthy gut will also support digestion. Probiotics also can prevent the growth of harmful bacteria, increase nutrient absorption, improve transit time of foods, and produce compounds that feed healthy bacteria such as short-chain fatty acids [R].
Lactobacillus probiotics can reduce stomach pain and diarrhea. Lactobacillus rhamnosus GG and Saccharomyces boulardii can stop diarrhea resulting from antibiotics. Lactobacillus, Saccharomyces boulardii, and Bifidobacterium lactis are helpful for constipation 
The best probiotics for digestive health seem to come from the Lactobacillus and Bifidobacterium families [R]. This could also be due to the fact these are the most widely researched probiotic strains. Little is known about how other probiotics affect digestion.
Probiotics for Cholesterol
Certain probiotics may reduce "bad" LDL and total cholesterol levels better than a placebo. The use of Lactobacillus acidophilus, Lactobacillus plantarum and a mixture of Lactobacillus acidophilus and Bifidobacterium lactis was the most effective on cholesterol levels when taken over a period of three to 12 weeks [R]. 
People with normal or high cholesterol levels also saw reductions in their LDL and total cholesterol after taking Lactobacillus acidophilus for 4 weeks or more. Those with mild cholesterol had greater reductions than those with normal levels [R]. 
Probiotics for Immune Health
Probiotics prevent the growth of harmful bacteria in the gut. This can help improve function of the immune system [R
Immune responses were increased by the presence of Lactobacillus. Pathogen destroying immune cells and antibodies formed after taking this probiotic [R]. 
Other research shows a reduction in respiratory and urinary tract infections among those taking this type of probiotic [R, R]
Probiotics for Metabolism and Weight Loss
Probiotics may provide a healthy microbiome that is needed for improved metabolism and weight loss [R]. However, research on probiotics and weight loss is conflicting.
Lactobacillus and Bifidobacterium strains of probiotics have been associated with fat reduction and weight loss [R, R, R, R]. 
Multi-strain probiotics were also effective at preventing weight gain when compared with a placebo. A small study of non obese men gained less body fat and weight after taking VSL#3 when consuming a high calorie high fat diet for four weeks [R]. 
On the other hand, weight gain was also associated with the use of probiotics. Lactobacillus acidophilus, was found to increase weight [R].
While there are promising results. When it comes to dosage, duration, and long-term effects for weight loss more research needs to be done to know the true effects of probiotics before they can be used as weight loss treatment [R, R].
When to Take Probiotics 
If you do not like fermented foods a supplement may be beneficial to increase your intake of probiotics [R].
Probiotic supplements have also been recommended for certain health conditions including stomach pain, diarrhea, and constipation [R, R, R, R].  
However, if you have a health condition and/or are on any medications it is best to ask a health professional about the best probiotics before starting any supplements.
What to Look for in a Probiotic
As with other supplements, probiotics are not regulated. To ensure a quality product look for tablets, microcapsules, and bead probiotics with at least 1 billion colony forming units (CFUs), a coating to withstand stomach acid, and is third party tested for purity [R].
Probiotic Supplement Dosages 
Overall, research on probiotics is still ongoing so there is no specific dosage recommendation.
Some evidence shows the chance of survival of certain probiotics was better with foods than with juice or water [R]. The presence of fat, sugar and/or carbs may also help bacteria survive digestion [R, R].
Some probiotics need to be taken before a meal, while others live on without being combined with food  [R, R].
Consistency of use seems to be most important for health benefits [R]. So be sure to follow the directions on the label.
Are Probiotics Safe
For the most part probiotics seem to be safe when using them for 9 months up to a year. There have also been side effects associated with these supplements. Gas and bloating are commonly seen with the use of Lactobacillus, Bifidobacteria, Streptococcus thermophilus, and Saccharomyces boulardii. The negative effects of other types of probiotics are unknown [R]. 
Other concerns include interactions with medications and the potential for intestinal bacterial overgrowth and antibiotic resistance. It could lead people susceptible to infection from pathogens. This can be very dangerous for people with poor immune function [R, R, R, R]. 
Those with a compromised immune function, other health conditions, and/or are on medications should ask their healthcare provider before taking probiotics. More research needs to be done to show the true risks of these supplements. [R].
Foods with Probiotics
There are also foods that naturally contain probiotics. Live bacteria and yeast can be found in fermented foods such as  apple cider vinegar, cheese, kimchi, kombucha, miso, and sauerkraut. [R]. 
Some foods have microorganisms added to them during processing. These include yogurt, milks, juices, smoothies, cereals, and nutrition bars [R]. 
Sourdough bread and pickles are foods that naturally contain live cultures but are killed during food processing [R]. Alternatively raw fermented foods like pickles will still contain the live probiotics. However, raw foods do have  a chance of causing a foodborne illness [R].
Digestive Enzyme vs. Probiotic
Probiotics are found in foods and supplements while enzymes are made by the body. 
[R]. The jobs of probiotics and digestive enzymes also vary. Probiotics provide healthy bacteria while enzymes increase ease digestion. 
Probiotics and  Digestive Enzymes Work Well Together
No need to worry about taking these products together. In animals, the combination of probiotics and digestive enzymes actually enhanced nutrient absorption and improved the microbiome [R].
There are also probiotic enzymes available on the market. These have been effective at lowering LDL and increasing "good" HDL cholesterol in animals [R]. 
Using probiotics with enzymes was helpful in treating lactose intolerance, pancreas disorders, muscle soreness, and medication-induced gut inflammation [R, R, R].
The fungus Aspergillusoryzae can survive stomach acid and will find its way to the small intestine. Digestive enzymes paired with this microbe reduced muscle soreness. It is also being researched as a potential treatment for celiac disease [R, R].
​​Depending on the instructions on the box you may be able to take probiotics and digestive enzymes at the same time.
Summary
A healthy gut and digestive tract is key to a good well-being. Probiotics and digestive enzymes have the ability to stimulate positive bacterial growth and break down food particles. As supplements they have been shown to improve digestion, gut health, immune function, cholesterol, weight loss, and muscle soreness.
Probiotics and digestive enzymes have also been used to treat stomach pain, constipation, diarrhea, diabetes, lactose intolerance, and pancreas disorders.
Unfortunately, there are no regulations on these products so it is hard to know what are the best digestive supplements and probiotics out there. There are also some concerns over the safety of these products. Some seem harmless with a few side effects. However, research is limited and there is still a lot we don't know about probiotics and digestive enzymes.
If you have a health condition and/or are on medication you should check with a healthcare professional to know if these supplements are right for you.  In the meantime you can also find certain foods that already contain these compounds. Eating foods like pineapple, papaya, honey, avocados, kimchi, miso, kiwifruit, ginger, yogurt, and pickles can naturally boost your levels of  probiotics and digestive enzymes.
Resources
---